Αρχή
» Αρθρογραφία
Σκληρός δίσκος 160 GB κατάλληλος για iPod
Τεχνολογία » Hardware - 22/08/2007
Η Samsung ανακοίνωσε την δημιουργία σκληρού δίσκου 160 Gigabyte με μέγεθος 1.8 ίντσες. Το συγκεκριμένο μέγεθος χρησιμοποιείται από την Apple στα iPod. Ίσως λοιπόν σύντομα να δούμε νέα iPod με μεγαλύτερη χωρητικότητα.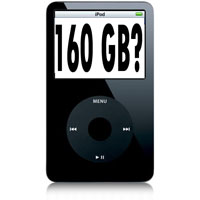 Δεν έχει ανακοινωθεί ακόμα η τιμή, αλλά ο αμέσως μικρότερος σκληρός δίσκος, στα 120GB, κοστίζει $249, αυτός λοιπόν θα είναι πιο ακριβός.
Ακολουθεί το δελτίο τύπου:
Samsung's Tiny 1.8" Hard Disk Drives are Giants in the Exploding Mobile Market
New Higher-Capacity Drives from Samsung Help Lead the Industry

San Jose, CA, Aug. 20, 2007 - Samsung Electronics Co., Ltd., a worldwide leader in digital consumer electronics and information technology, today announced that its new highest-capacity-yet 1.8inch Hard Disk Drives (HDD) are playing a dominant role in leading the growth of the mobile storage market. IT and consumer product companies are building new multimedia products built around our 1.8inch HDD storage medium, which is smaller than a business card but packs 160 GB capacity at 4200 RPM.

"The 1.8inch HDD market will grow at a tremendous pace with annual sales expected to increase up to 65% by 2010 as consumers demand smaller, more compact technology devices," states Andrew Higginbotham, director of hard drive sales and marketing, Samsung Semiconductor Inc. "Samsung is leading the pack with its new Spinpoint N2 Series drives that offer a best-in-class combination of reliability, capacity, performance, and value."

Camcorders - The New Storage Medium for UCC Generation

User Created Content (UCC) has become a major hit with consumers and businesses facilitated by the arrival of Web 2.0 era and the explosive growing of the HDD camcorder market, which makes it easy to record and upload moving pictures onto the Internet. The new generation of 1.8" HDD storage provides many benefits to users, including higher storage capacities than existing tape or DVD devices that enable the design of camcorders that are smaller and lighter.

HDD camcorders sales have skyrocketed. According to TSR, the market research institute, the HDD camcorder segment of the camcorder market will grow from 4 million units in 2006 to over 8 million units by the end of 2011.

1.8"HDDs are Expanding into the MP3 Player and PMP Markets

The 1.8" HDD has gained momentum from the mobile consumer markets as the storage medium of choice by providing high volume solutions at the most economical price points. Devices such as MP3 players and personal media players are using the 1.8" HDD as the storage medium to support music files, video and Internet access.

Recently, Samsung Electronics unveiled its Spinpoint N2 Series, the first 1.8" HDD to offer the ultra high 160GB capacity. Taking the mobile storage market to new heights, the Spinpoint N2 has the capacity to store more than 40,000 MP3 files or 100 HD quality movies.

Through market sensing and customer collaboration, Samsung will continue to develop breakthrough storage technology for the evolving, feature-rich demands of the mobile consumer and entertainment markets.



Πηγή: GizModo.